Hello, all - how is your Sunday going? I always get the Sunday blues as the evening progresses and I start thinking about going to work the next day. Darn! I'm warding off the bad feelings by finishing up my vintage manis for
Digital Dozen
week and today I've got some vintage wallpaper inspired nails!
I found this really awesome Etsy shop called
Hannah's Treasures
that sells vintage (actual vintage, too, not reproduction which I thought was really cool) wallpaper and I fell in love with a bunch of the patterns. The one I settled on was
this
funky 1950's yellow, red and green geometric style one. They remind me a bit of colorful mandalas and that's why I was drawn to them.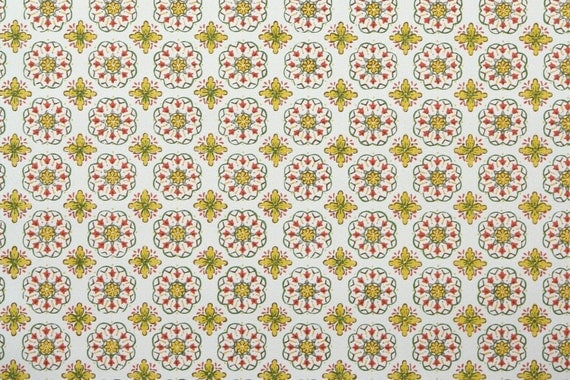 I'm not really sold on this look. It didn't come out quite like I hoped it would and in the end I feel like it looks a little bit like a piñata or something? I think the colors that I used were more vibrant than the colors in the wallpaper and that might be the reason they feel that way to me.
I started with a base of OPI's My Boyfriend Scales Walls (did I used that in every mani this week?!) and painted the center yellow flower using American Apparel's Manila. With OPI's Don't Mess With OPI, I did the green circle around the flower and followed it up with the grey purple triangles using Zoya's Megan. The red is a color I haven't used before, Ciate's encore! that I have a mini of from the Advent Calendar last winter. Finally, I did all the outlining with Zoya's Louise. I think this is another color combo that is a bit "ugly-pretty" as I mentioned in one of my other posts this week ;) I also ended up mattifying these since the shiny top coat made them look a bit funny.
Whew! Another
Digital Dozen
week done! Did you have a favorite look from this week? I struggled a bit with coming up with things but I think my favorite days were
1
and
3
. I really loved what everyone created this week and I really need to make sure that next month I finish on time like I was able to do the first few challenges I took part in. Be sure to check out all the other looks that my favorite nail art ladies put together this week in the inlinkz below!
Happy Polishing :)